Hello from the Windy City!  DG and I have made the trek from the Bay Area to Chicago all in one piece!  We did a straight shot from Marin in less than 40 hours and only stopped for gas, which I do not recommend.  Next time I do a road trip, I would like to enjoy the journey and maybe even stop to see the nation's largest ball of twine.
So now that we've arrived, first thing's first: I needed to find my local farmers' market.  Luckily, I knew just where to go: LocalHarvest.org, an online community that helps locate organic farms, farmers' markets, community supported agriculture (CSAs), and more!  They have an online store, links to blogs and forums (great for seasonal recipes), events, and a newsletter you can subscribe to or peruse online.  LocalHarvest.org helped me find Chicago's Downtown Farmstand: easy walking distance from my new digs and open six days a week!  Here are my favorite tips for "farming the market" right:
Use durable, reusable bags (like cotton totes or Chicobags) to transport your fresh produce and keep it protected.
Chat up vendors about their growing process–learning how the food is raised and delivered to you can be quite enlightening!
Ask for hidden treasures: you never know when you might find organic farmers who simply haven't paid for the certification (passing the savings on to you!), a great family recipe, or a deal if you stock up!
Do the 'once-around'– scope out all the stalls once before deciding on what you'll be eating, especially if you're purchasing eats for a meal you'll be preparing later.
Don't hesitate to come towards closing time: the goods are mostly likely just as good but the prices may drop as vendors try to unload their wares before closing time.
Happy shopping!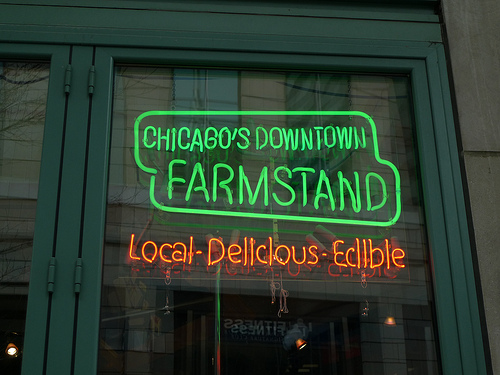 Do you want to spread the word on your local farmers' market?  Have great shopping tips?  Share in the comments section below!
No Comments :(